Just fifty years after the first stamped German envelope had been issued in Prussia in 1851, the BGSV (Berlin Postal Stationery Collectors Club) was established in Berlin. At that time, it was supposed to be the very first society in the world being devoted to collecting exclusively postal stationery (i.e. pre-printed stamp material). The magazine "Der Ganzsachen-Sammler" [Collector of Postal Stationery] became the club's official periodical organ in 1912 and after changing its title to "Die Ganzsache" [Postal Stationery] in 1921 this magazine has appeared ever since with a 7-year break due to war. In commemoration of its one hundred years of existence a jubilee number was published in 2012.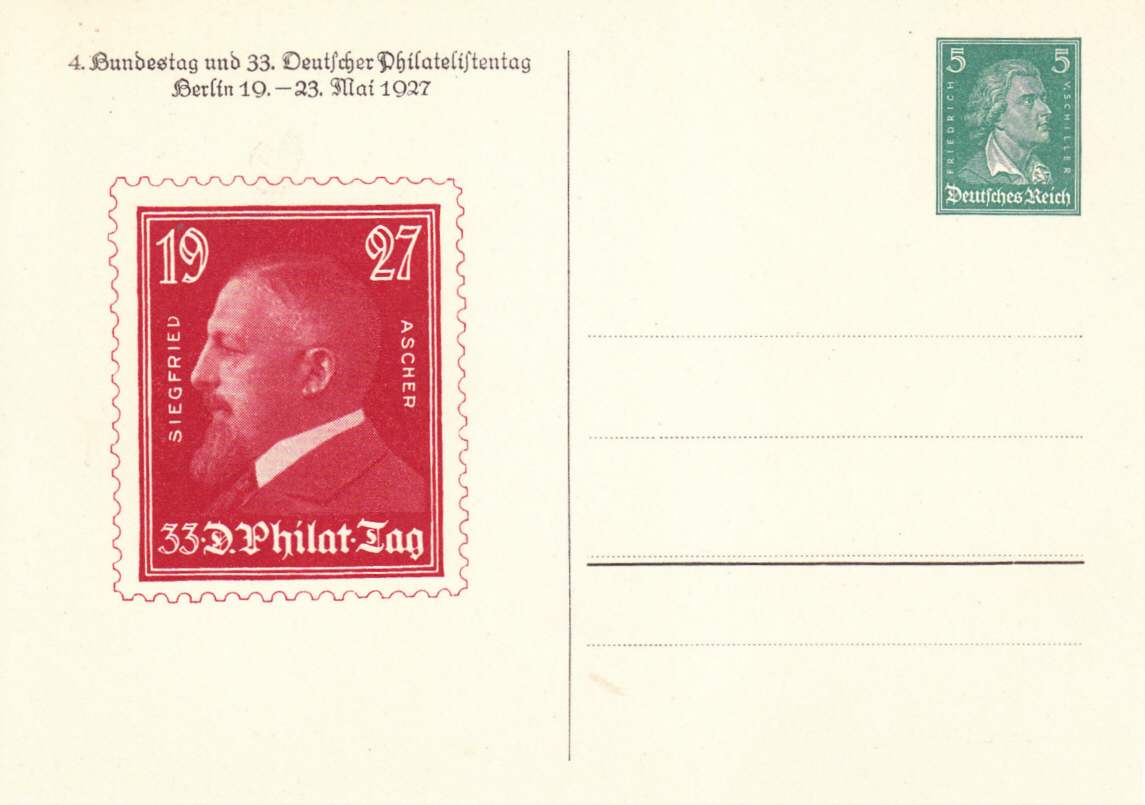 Dr. Siegfried Ascher (1877 – 1962) auf einer Privatpostkarte von 1927
Many a famous philatelist had a formative influence on the club. The leading personality among them was Karl Lindenberg, Prussian civil servant as the presiding judge of a district court who from 1884 – 1899 und again from 1918 – 1919 was part of the advisory body in the curatorship of the German Empire's postal museum in Berlin. While he was also responsible for building the collections there, he managed to reveal the deceptive products of expert forger Georges Fouré, who with his forgeries had confused German collectors for several years. Of all the other well-known club members at least Dr. Siegfried Ascher, Dr. Franz Kalckhoff, Prof. Dr. Erich Stenger and Theodor Junker should be mentioned.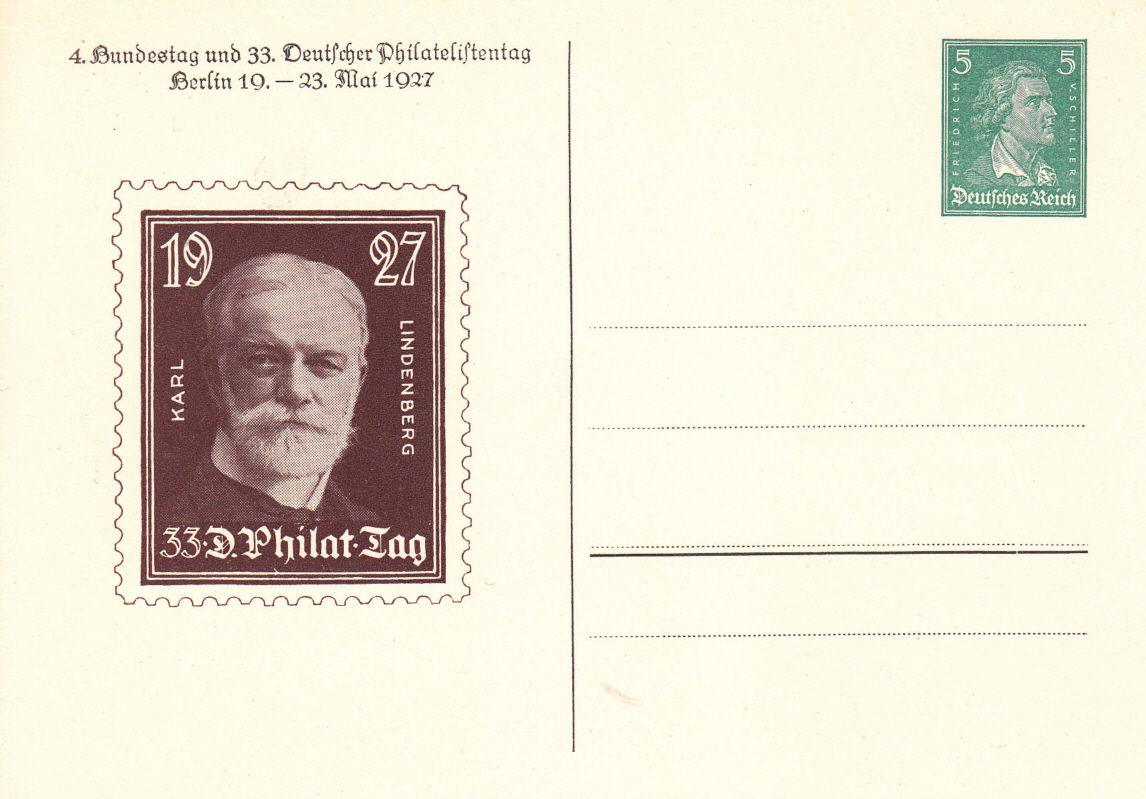 Karl Lindenberg (1850 – 1928) auf einer Privatpostkarte von 1927
Apart from the activities quite common for a philatelic organization, such as social conventions or evening events with lectures and the possibility of exchanging items or the circulation of duplicates to the members per mail, the BGSV throughout its existence has offered services for newly edited postal stationery and for special cancellations. But the club's utmost concern has always been the exploration and cataloguing of postal stationery, that's why for a start some members were very involved in the philatelic publications of Gebrüder Senf at Leipzig and later on got a worldwide reputation for their Catalogue of Postal Stationery of the Whole World [Großer Ganzsachenkatalog], which was published in several instalments from 1923 to 1928 and which in quotations is usually named after its then editor-in-chief: Siegfried Ascher. A specialised catalogue on German Postal Stationery as a cooperative work of S. Ascher and Th. Junker followed in 1932, as well as a World Catalogue of Illustrated Postal Stationery by Th. Junker in 1933 and an abridged version of the above first mentioned World Catalogue by Walter Beckhaus in 1938. After World War II, one of the many club members abroad, that is Edward G. Fladung in the USA, worked on a revised and continued edition of Ascher's World Catalogue under the name Higgins & Gage and again was helped by numerous German BGSV members.
Under the Nazi regime the BGSV suffered from a sharp break in its progress. Though Junker's catalogue of 1933 had just been published by an established Jewish publishing house, countless club members of Jewish origin – as they had no proof of Aryan ancestry – risked their lives if they had not left the club and the "Third Reich" by 1935. As a consequence, chairman Dr. Stenger resigned from his position as a sign of protest, and S. Ascher, who had still been able to publish his articles in the club's periodical even in 1938, succeeded in escaping to Palestine (where he died in 1962) at the very last moment in 1939. Stenger's successor in the position of a chairman profited from his own good relations to the Third Reich's postmaster general, Wilhelm Ohnesorge, but nonetheless the club magazine had to cease publication in April 1943 on account of World War II.
When the war was over, many former members were dead, the library and the archive were burnt, and it was forbidden to associate in any club whatsoever. Not until 1948 was the club given permission to re-unite in the American sector of Berlin. From then on, the BGSV continued with its work and commitment in West Berlin and in the Federal Republic, whereas the German Democratic Republic [DDR] was excluded from membership. And in 1950 the first post-war number of "Die Ganzsache" reappeared.
Once again work for catalogues began, a New Catalogue of Postal Stationery [Neuer Ganzsachen-Katalog = NGK] was planned, and actually 13 instalments of it appeared in print, the last one being Norway and Austria in 1971, but then the printing costs were beyond the club's means and so it stopped work. And yet, owing to individual idealism and the readiness to make a financial loss, more catalogues were published in the time after 1971 which were compiled by or in cooperation with BGSV members. Among these were the two volumes of a specialised Catalogue of German Postal Stationery published by Borek and compiled by Hans Meier zu Eissen and the catalogue of printed-to-private-order postcards in two volumes compiled and published by Hanspeter Frech.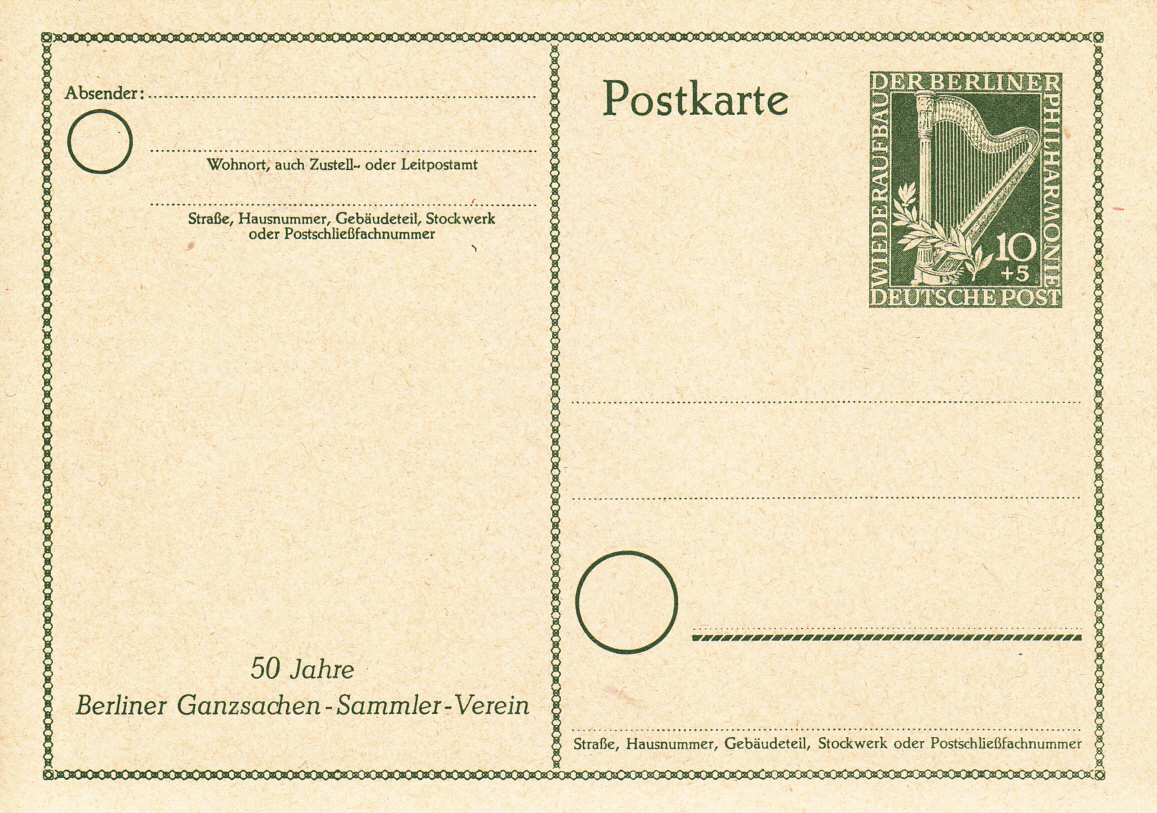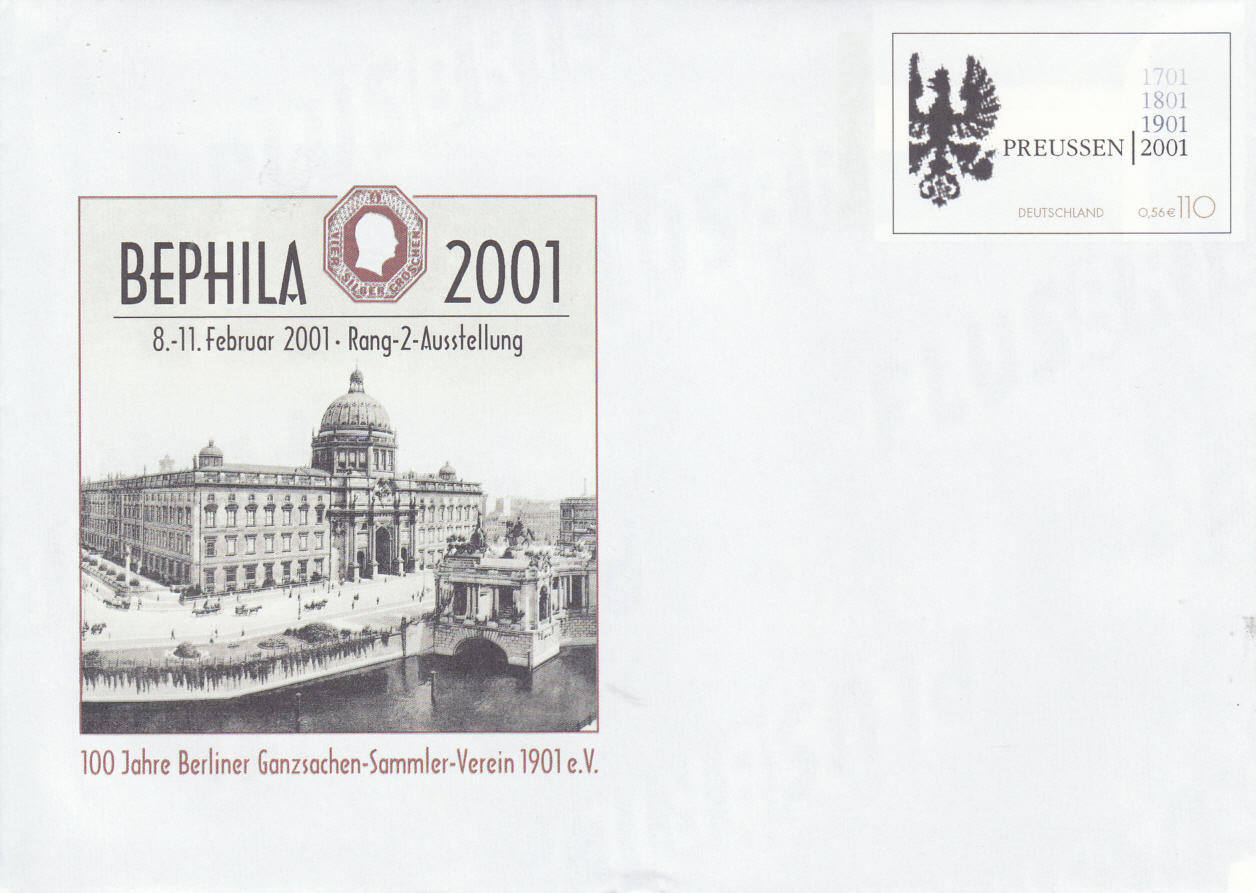 Amtliche Ganzsachen zum 50. und 100. Vereinsjubiläum
During the last few years the new computer technology enabled people to write their catalogues at home on their computers and have it printed in a small print shop. Consequently, the club continued its work on the New Catalogue, and several volumes listing German printed-to-private-order items or officially issued postal stationery with private printings on them have been published so far. What became internationally known was Norbert Sehler's revision of Ascher's World Catalogue of which the sections "Africa", "The Caribbean", and "African Aerogrammes" are on the market.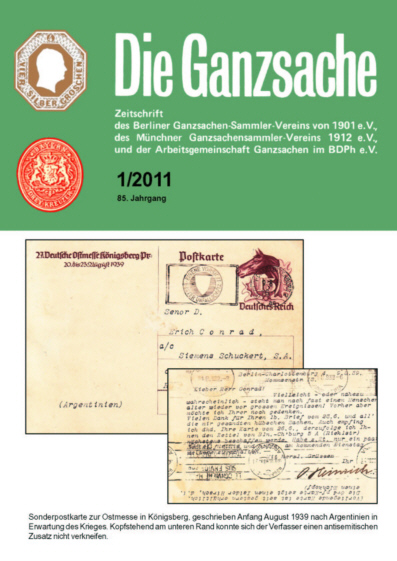 Titelblatt der Vereinszeitschrift
The club magazine "Die Ganzsache", which is compiled in cooperation with the Munich Postal Stationery Collectors Club (founded in 1912), comes twice a year. Its ambitious content of some 100 pages has got a traditional lot of fresh articles with four-coloured illustrations in addition to a review section on philatelic literature and another one that registers all newly issued postal stationery from nearly all countries in the world. The latter has been of good help for many people ever since as the philatelic base of any catalogue work worldwide. In 1926, 1951, 1991, 2001 and in 2012 comprehensive commemorative publications marked the club's corresponding anniversaries.
For an annual membership subscription of 40 € you are welcome in the club. Applicants who might wish to join are politely asked to contact Norbert Sehler, Kreuznacher Straße 20, 14197 Berlin.